Chair
Alexandra Massie
Kernow SSAGO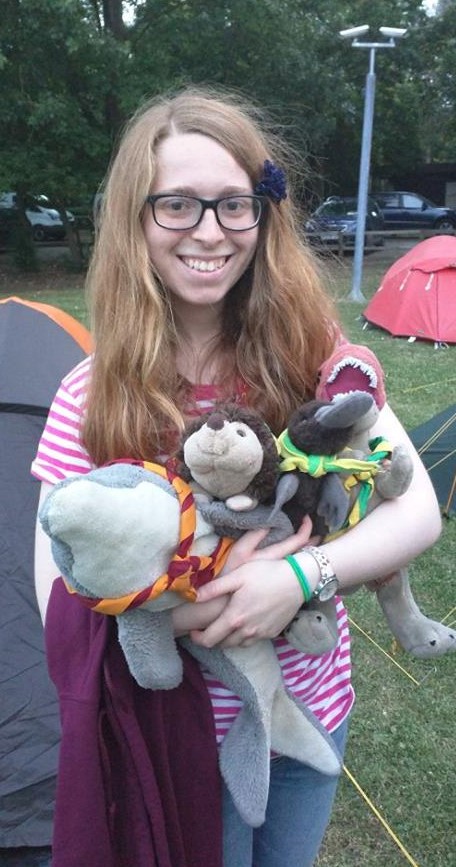 Who am I?
I am Lexie, and this is my fifth year in SSAGO. I was part of Southampton SSAGO for four years, and am now the Chair of Kernow SSAGO, a new club which I have recently set up for universities within Cornwall.
Why am I running?
I am running for the position of Chair because I really care about SSAGO. It has been a huge part of my life for the past 4 ½ years, and I talk about it constantly. Because I love SSAGO so much, I want to help ensure the longevity of this fantastic organisation. Being elected as Chair will help me ensure future members have the same, amazing experience I have had, hopefully getting them really enthused about SSAGO, Guiding and Scouting. At SSAGO's 50th Reunion Camp, I really saw the impact SSAGO has had on people's lives, and I would like to keep this going, allowing SSAGO to continue to grow.
What would I like to achieve?
Although last years exec have made huge progress in securing SSAGOs future, they have only had a year, so it is still a work in progress. Therefore, I would like to continue working through the policy documents with the membership, implementing them.
As much as we all hate surveys (sorry Josh!), I feel they are invaluable in helping SSAGO to improve, so I would like to continue with the post-event feedback forms.

I would like to review the previous full membership survey to ensure the changes that followed it, such as the increased food budget on Rallies, have had their desired effect.

Work closely with the Members Officer to ensure that SSAGO as a whole is happy. As SSAGO continues to grow, there is a risk that current members may feel they are not being listened to, simply due to the size of the organisation, so I am keen to prevent this from happening.

Rather than setting up new clubs, I would like to put an emphasis on assisting new and struggling clubs, making sure they feel they really belong in SSAGO.

Having set up a new club myself in this past year, I have found there to be very little guidance, which may make the task quite daunting for someone completely new to SSAGO.

Therefore I would like to continue going through the present factsheets, and making them more detailed where needed.
Implement SSAGO Regions – I feel this will really help bring SSAGO clubs together, improving inter-club relationships.

This will likely have a positive impact on attendance at national events due to easier transport sharing, and new members feeling more confident as they have already met other clubs at a smaller event prior to Rally.

Benefits of these regions have already been shown by the South West and Midlands annual fresher's camps.

Regions will be particularly important for Indie members as it would allow them to have more regular contact with other SSAGO members, hopefully increasing their attendance at national events.
Why am I suitable?
Having been a member of SSAGO for 4 ½ years now, I feel I have sufficient experience for the position of Chair.
I have been on a variety of SSAGO committees, including holding the roles of Social Secretary, Quartermaster and Guide Liaison for Southampton SSAGO, Logistics for Dino Rally, and Secretary for SSAGO Reunion.

Most recently I have set up Kernow SSAGO, and currently hold the position of Chair.
These roles have taught me a range of skills, including how to manage my time effectively, and has given me experience in working as part of a team.
I feel I would make a good Chair as I am really committed to SSAGO. I try my hardest to attend all national events, even making it to Lancaster's Fantasy Rally all the way from Cornwall, and bringing two others with me! This is my 14th Rally, and I have also attended 3 Ball's, Witan and Reunion. Because I have attended so many events, I know lots of people within SSAGO, past and present. I have gained so much by being a part of SSAGO, and I would love to share these benefits with others.