Publicity Officer
Reuben Cone
Indie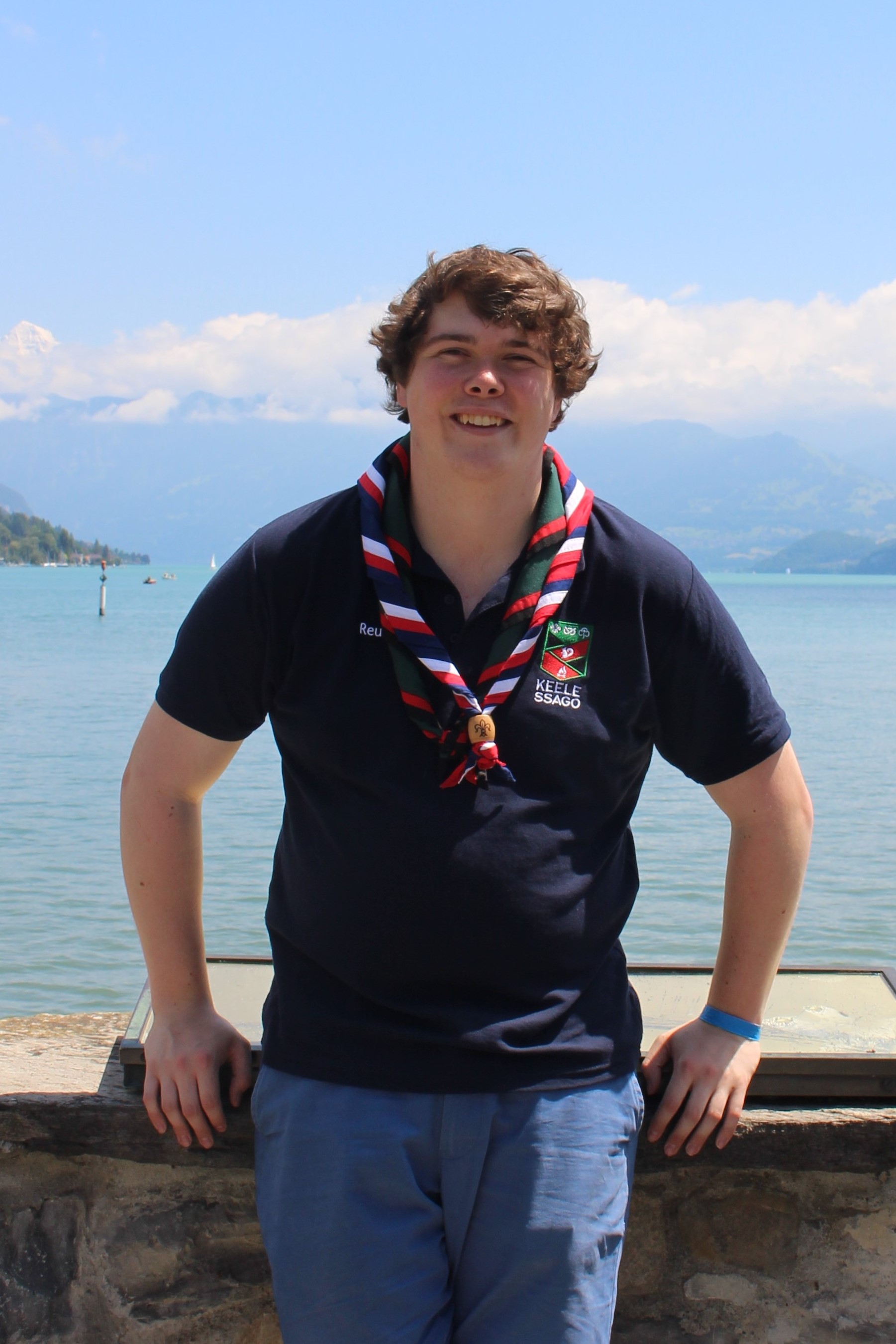 Hello!
I'm Reuben, a third year Biology student and current Chair of Keele SSAGO.
For almost three years SSAGO has been a massive part of my life. When I arrived at Keele, the club had half a committee, had never properly been to a national event and most importantly didn't have a mascot. I jumped straight in as Treasurer on the committee, and as a team we helped to build the foundations with an improved logo, merchandise and adopted Scruffy Squirrel. In the year after that I became Scout and Guide coordinator which (as the name suggests) involved liaising with the local Scout and Guide groups. I helped to find leadership opportunities for our members and grow our clubs position within the local districts. Most importantly though my second year was spent helping to organise our Keele to Kandersteg trip. Taking plucky little Keele all the way to Switzerland was a rewarding and unforgettable experience. I learned many things about organisation, finances and paperwork – all skills that I hope will serve me well now. Going into my final year I became Chair. The year started with our Midlands Freshers Camp - anybody who saw me swaggering around in a deer-stalker will tell you I had a great time leading the weekend. Currently we are in the process of organising our next international trip to Germany, taking even more people away for an even better time.
Alas I now must leave Keele. Seeing the club I helped to set up thrive and grow is one of my proudest achievements. But I need something to fill the gap don't I?
Why I'm running for Publicity Officer
A new challenge - As mentioned, as much as I have loved my time with Keele, I feel I'm ready to step up to the next level on the SSAGO ladder and take on a larger role with the national Exec.
I'm an all rounder - previous officers tend to be suited to certain area of publicity, be it writing or graphic design. I have dabbled in all sorts of things! I know my way around photoshop, edited a few videos in my time, have written articles for local scouting magazines and have run the social media accounts for the club for a few years.
I enjoy designing things - I've created logos for both our trips, our freshers camp and our merchandise. I also designed our flag and enjoyed creating the Freshers Camp website and accompanying peripherals. I've also lead a complete rebrand of Keele University Quidditch Club with a new logo and kits.
I think spreading the word about SSAGO is important - the fact that so many of our members come to university having no idea about who we are or what we do is such a shame. I am the first to go home and tell my fellow Scouters about what I've been up to with SSAGO. I've particularly enjoyed attending Gilwell 24 for the past 2 years helping to tell young people all about the great things we do!
What I'd like to do as Publicity Officer
Make use of the online badge infrastructure - We all enjoyed the 50th Anniversary Challenge badges, and Oli did a great job with the system of recording what we've done, but since then it's been left to gather dust. I propose creating a system where clubs could create challenge badges, have a say in what you have to do to get them, and then offer it up for the rest of the organisation. Currently if a club wants to get involved with something for the whole organisation, it can only really be Rally or Ball – I believe this would be something more accessible to help smaller clubs contribute to the national programme.
Make the most out of SSAGO Supports Events - The fact that people volunteer to promote SSAGO at events like Gilwell 24 is great. But from my previous experience, we have never fully utilised the opportunity to sell SSAGO to Explorers and Rangers. I propose an overhaul of our presence at these events: making sure we are getting the attention we deserve and are not just treated as general volunteers.
Improve SSAGO awards - Cutlery Cup is a great way to honour the work that an individual has done for SSAGO. However as they say: teamwork makes the dream work! I propose opening up more categories of awards to allow members to celebrate a committee or perhaps the best non-national event run by a club. I would keep the Exec making the overall decisions, but would like to publicise the nominations for everybody to see.
Get SSAGO featured in more TSA and Girlguiding media -Obviously I want as many people as possible to experience the same great SSAGO experiences as I have. To do this I want to develop SSAGOs image amongst our partner organisations. I believe our space on TSA's and Girlguiding's website needs improving to reflect what we really do. Furthermore being featured in both magazines and other media is crucial, and I believe these opportunities have been missed in recent years.
Thank you for reading my manifesto. If elected I will be sure to give my all to this great organisation in the hopes of making SSAGO bigger and better.